118 Bellevue Avenue, Montclair, NJ
We are excited to have our listing at 118 Bellevue Ave. featured in the New York Times. See the article and what $1.5 million buys here and in other towns.

---
Winter Home Buyers in Montclair Got Values
There were fewer active listings last month to meet high demand, particularly for 4+ bedroom homes.
Selling Price / Listing Price (SP/LP) for the 20 closed deals in February was relatively low at 98% versus 103% last year, and 104% in the trailing 12 months.
Days on Market were extended, correspondingly at 58 days, versus 36 last year, and 36 in the trailing 12 months.
I attribute this to people seeking value among houses that have lingered over the holiday period of early winter. Maybe buyers are taking my oft repeated advice to ask these wallflowers to dance.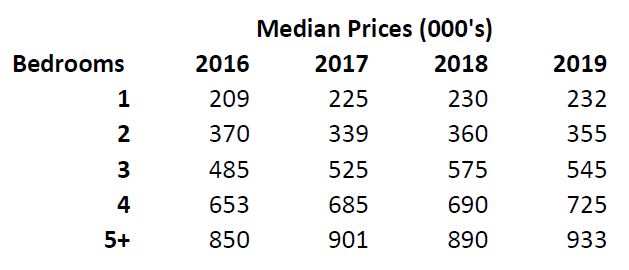 Active listings last month failed to meet demand, particularly for 4+ bedroom homes. Median prices of 4+ bedroom Montclair, NJ homes sold in the 12 months ended February 18 continued to creep up year over year. The 4 bedroom segment was in the highest demand, with an average 7% premium over list price.
Last month, low inventory sidelined some home buyers waiting for more options, while others snapped up what homes were available as 43 houses went under contract, the highest level since October 2018.
The 51 new real estate listings in February clearly fell short of buyer demand. There were only 119 total active listings in Montclair in February, up only slightly from 112 in January, and down from 129 in February 2018.
> Sellers – probably best to come to market as soon as possible.
> Buyers – expect inventory to grow in the coming months.
Contact me for more info and any questions.
Best, Rich
PS – Get the best price for your home by planning ahead.
The Stanton Company Realtors' Home Sellers' Countdown Calendar